Computation Centers to Math Practice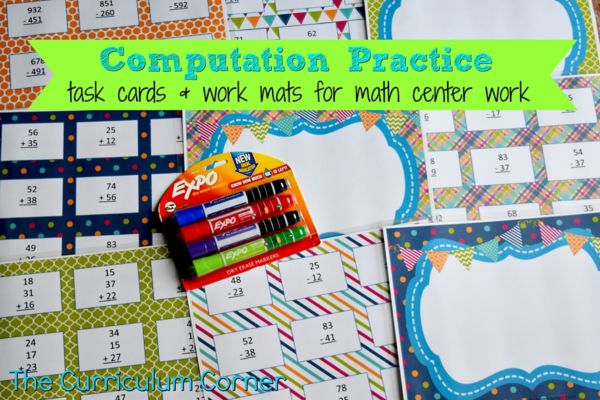 Plan ahead and get some resources ready for the new school year. This computation collection includes addition centers and subtraction centers that are colorful and more engaging for students than worksheets. Simply print on card stock, laminate and grab some EXPO Dry Erase Markers with Ink Indicator – available in six different colors – and you're all set.
Recently we were talking with a teacher about resources she needed for her classroom. She shared that her principal was encouraging staff to go as paperless as possible. While the thought of that might sound daunting or near impossible, we all know that funds and supplies such as copy paper are often in short demand. We need to think outside the box when we prepare lessons and centers and make sure that, as much as possible, we can reuse our materials again and again.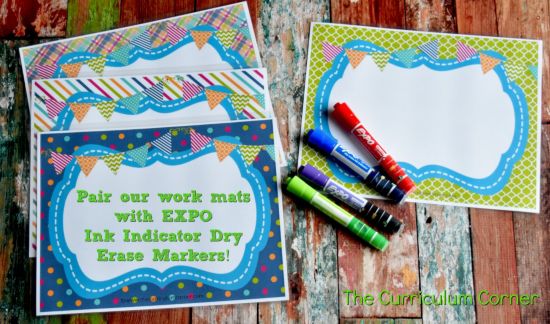 This collection of computation practice resources includes 4 colorful work mats and SEVEN sets of computation task cards including the following skills:
2-Digit addition without regrouping
2-Digit addition with regrouping,
3-Digit addition with and without regrouping
3 number column addition
2-Digit subtraction without regrouping
2-Digit subtraction with regrouping
3-Digit subtraction with and without regrouping
And speaking of supplies…how many times have you pulled out your basket of dry erase markers for a class activity only to find out as students start to use them that they are out of ink? Seems like for us, we spent the first few minutes of many lessons exchanging markers that were dried up and making sure each student had one that was working. That's why we LOVE EXPO's newest product Dry Erase Markers with Ink Indicator. You can tell with a quick glimpse if they're running low and replace them before you even start. Take a look at the specific product information for these awesome markers here: EXPO's Ink Indicator Dry Erase Markers
Featured content from: The Curriculum Corner