Road Trip Travel Map
The car is packed, the itinerary is set, and the tank is full. The only thing that could possibly derail this road trip now is a couple of bored or unhappy passengers in the backseat. Here's a quick trick to turn a long car ride into a fun and educational experience for your smaller road-trippers: Use Dry Erase Markers to draw maps and play games for backseat entertainment.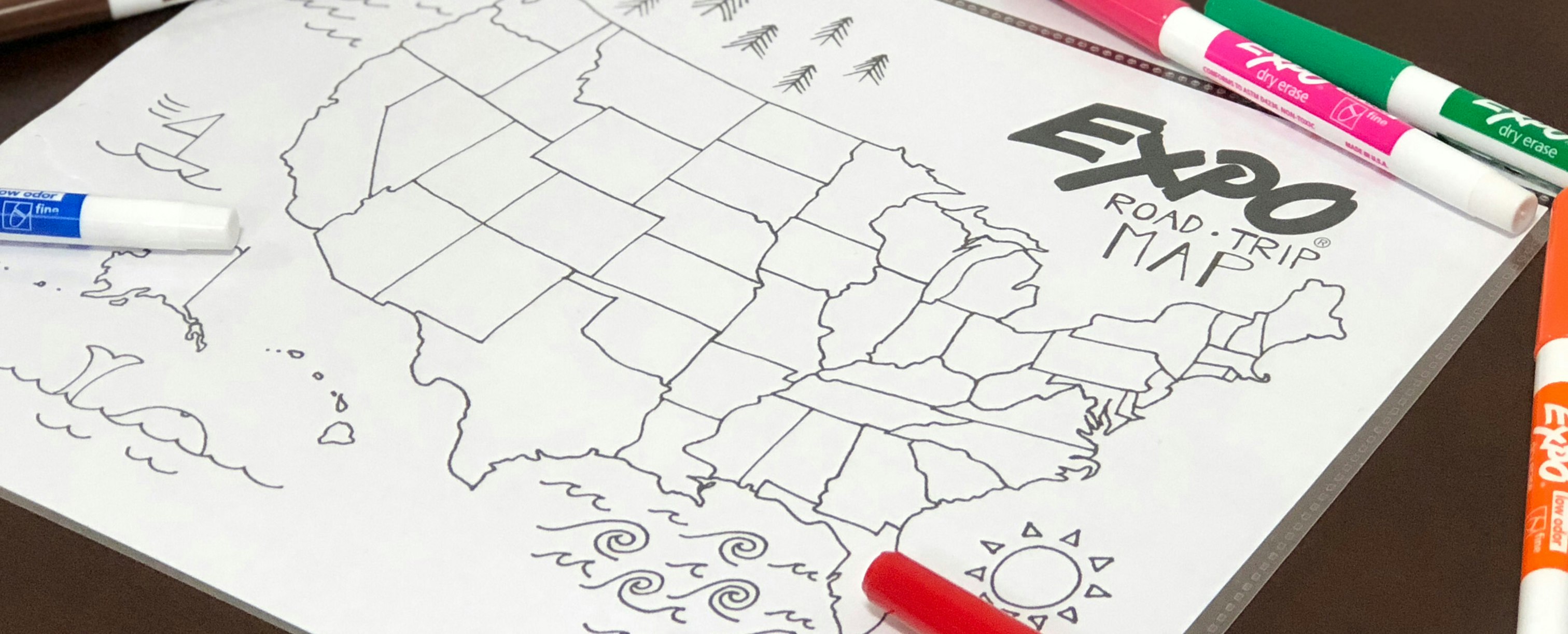 Make a map:
Print a map of your journey or the United States on regular paper, then either laminate it or slip it into a plastic page protector. You can mark them up however you like, then wipe them down and start again. EXPO markings comes off easily with tissues or a cloth, so a clean slate is always a quick wipe away.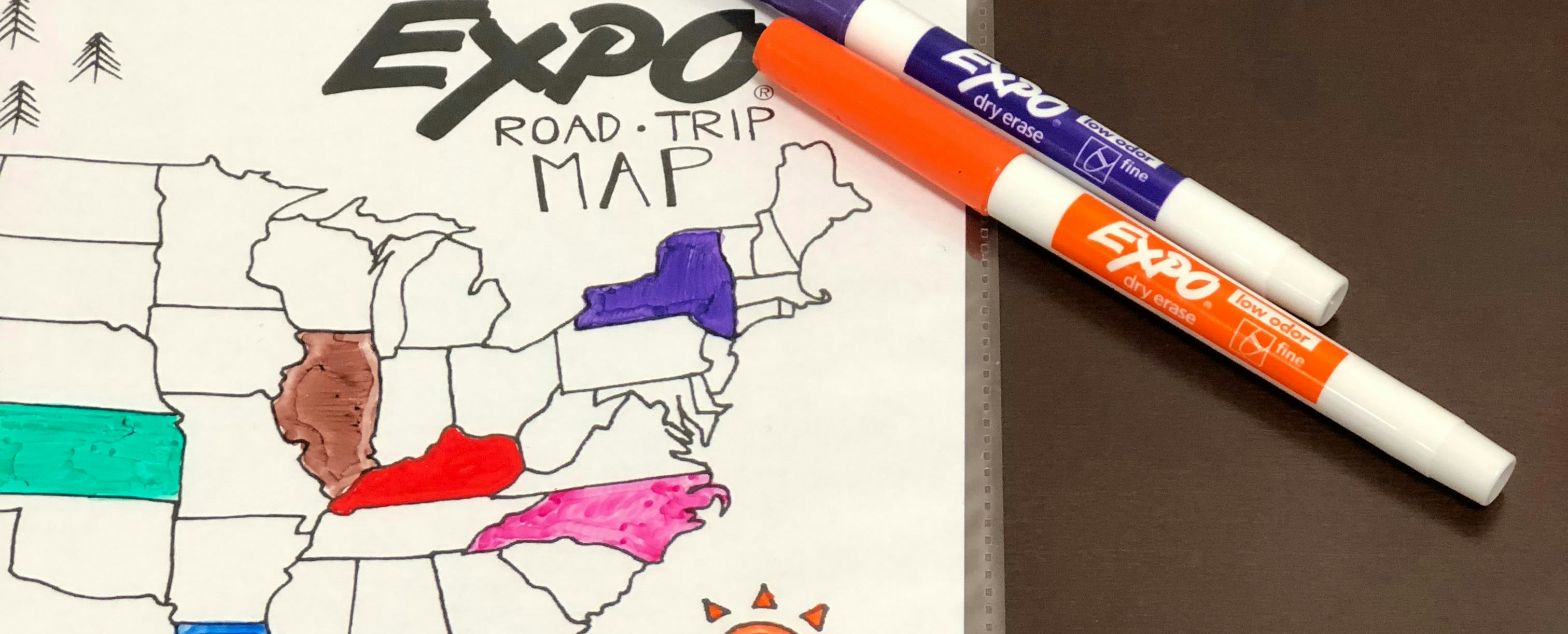 Play these games:
Outline each state as you pass through them, or colour them in completely, or create a unique pattern.

Label your maps by writing as many state names as you can before the next stop. The passenger with the most correct state names gets to choose lunch!

Connect the dots of your route by keeping an eye on road signs.

Search for license plates from all 50 states, and use EXPO Markers to colour them in as you find them. This game will get the whole car working together as a team, and the more you get to colour in, the more exciting the search becomes.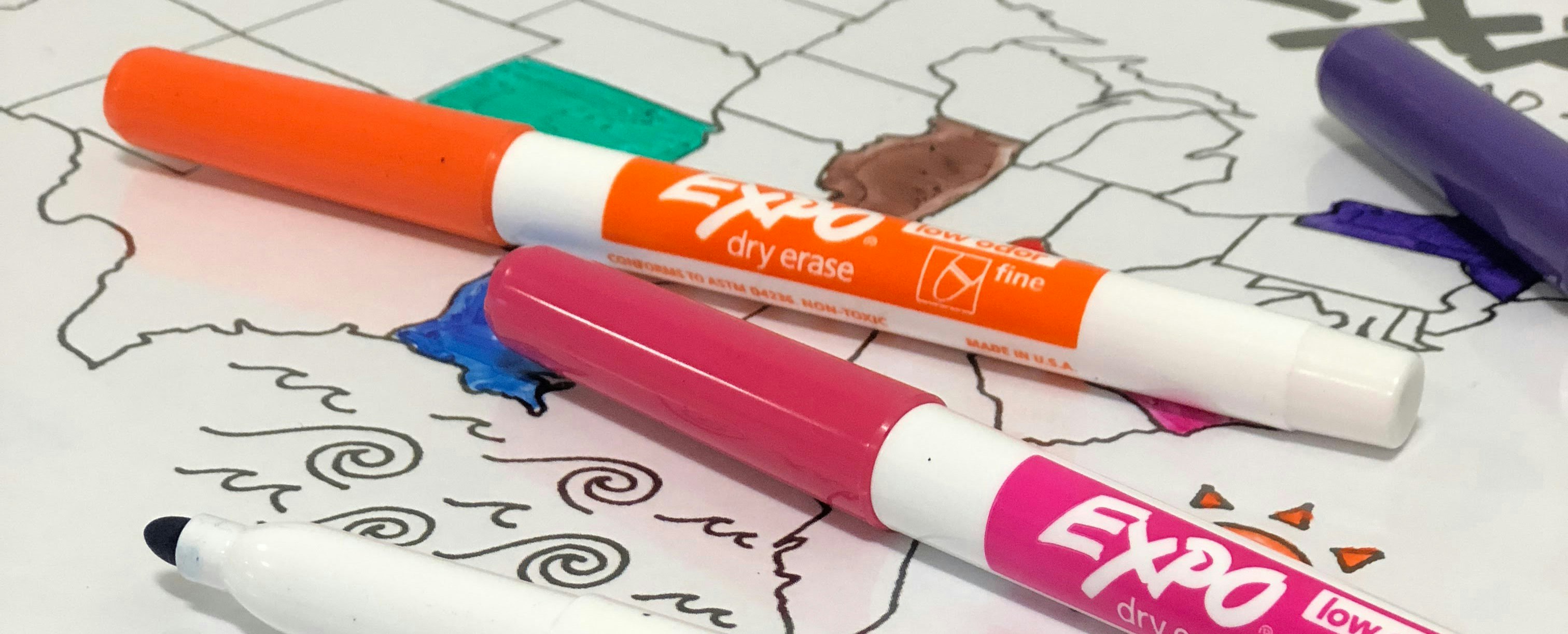 Tips:
Pack EXPO Low Odour Dry Erase Markers, Fine Tip markers to make it easier to draw the details. A finer tip could also come in handy if it's a bumpy ride!
Get creative, and take advantage of all Expo Low Odour Dry Erase Markers, Fine Tip colours available to turn your maps into works of art.
Try Expo® Low Odour Dry Erase Markers, Chisel Tip to avoid losing caps .The airtight seal keeps the ink from drying out so you get smooth markings and vibrant colours every single time.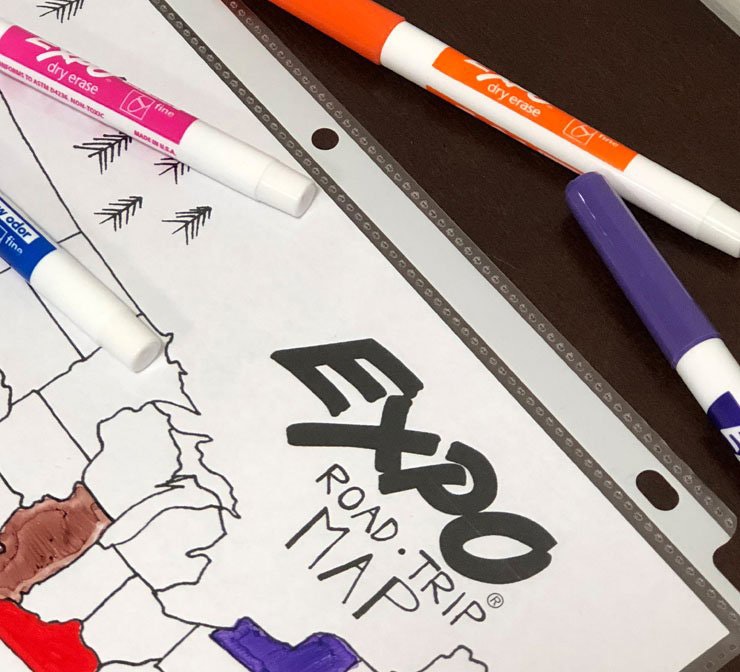 Hang your maps on the back of the seat:
Make your maps easily accessible and top of mind to prevent boredom between stops:
Punch two holes in the tops of your maps, and simply use a piece of string to hang it over your headrest.
Alternatively, attach hook and loop fastener strips to the backs of your maps and two strips to the seats. This way, the kids can pluck them off whenever they want to look at them and easily re-attach when they're done.
The best part? The fun will never hit a dead end. Once you finish filling up their maps, simply snap a quick photo to commemorate your work, wipe away the markings with a tissue or cloth, and create a new challenge. Expo Markers make it easier than ever to entertain and educate kids during road trips.